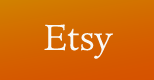 I've got an Etsy!!! (insert nanny, nanny, boo, boo face here) I'm excited, but a little nervous. What if this ends up like the eBay fiasco of June 2007? Oh well, you don't know what you can do until you try. I'm all for trying anything at least once. Craftyhandbags was already taken, so I had to go with
http://craftybagsetc.etsy.com
That's OK because I don't just make handbags. I am a crafty woman! (with a short attention span) Meanwhile, I'll just have to have a little chat with whoever took MY CRAFTYHANDBAGS!!! (deep cleansing breaths) I'm fine...really.
So far I just have two things listed, but many more will come. I have bags coursing through my veins. You know what's really funny? I hardly ever carry a handbag! Well, I carry one, but it's usually thrown into the diaper bag. Sad, isn't it? It's like I live vicariously through all the people I've been giving my handbags to. Well, not any more! I'll be living vicariously through all the people who BUY my handbags!
I really need to get cracking on my teddy bear thing. It's just sitting on my counter mocking me, "You are an idiot! Who is so dumb that they can't make a teddy bear head? YOU!" I will conquer the bear head!
Anyways... check out my etsy, buy something, will ya?